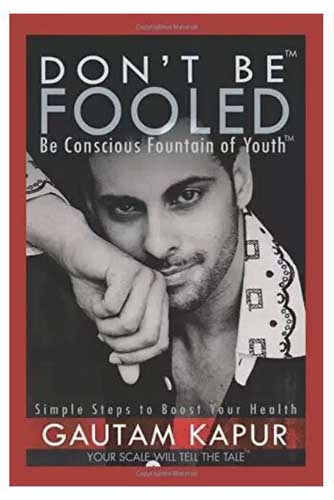 Don't Be Fooled: Be Conscious Fountain of Youth
DON'T BE FOOLED IS AN EMPOWERING BOOK WHICH WILL POINT YOU IN A DIRECTION WHICH CREATES CLARITY ON READING LABELS, ESSENTIAL NUTRIENTS, THE IMPACT OF EMOTIONS ON OUR BODY, EMOTIONAL EATING AND MORE…
TURBO CHARGE YOUR LIFE WITH CRITICAL INFORMATION THAT WILL HELP SLOW DOWN THE AGEING PROCESS WITH SIMPLE STEPS TO ORGANIC LIVING.
₹395.00Add to cart
WHAT CLIENT'S SAY
Anamika
/ CEO
Hi, I am Anamika, I have been taking BE CONSCIOUS Supplements "Belly off" and Amino acids "Xtreme" for 2 months now. I have lost 1 and a half kgs weight and there has been a remarkable difference in my energy levels. And there is now a boost in my energy.
Rajendra Munyal.
/ CEO
I bought a few products with you, hoping to get healthy results. I must confess that the product qualities have given me a very pleasant surprise. The pulses are unbelievable; they cook quickly, while still retaining their nutrients & taste so nice. The honey and cold pressed oil is magic to me, the oil gets absorbed so naturally well with the cooked food. Thank you for introducing me to this amazing concept of foods. I am looking forward to you expanding the range & getting more products.
Vinay
/ CEO
Staying in Dubai. Due to the water quality here in the Gulf region, coupled with a stressful lifestyle, I have started losing hair at a very early age. The few options available to everyone to prevent hair fall are a good diet and regular oil massages. Anti hair fall serums, high on chemicals are not an option for me. Although my diet still being unstable, regular oil massages didn't seem to help much until I started using "BE CONSCIOUS YOUTHEX" supplements about a month ago and the results have been satisfying. For now, the hair fall has reduced considerably. Although it will take some time to again get my scalp covered completely, it has shown quite a noticeable difference given such a short span of time. Definitely ordering them regularly. I recommend it for anybody suffering from hair loss.
| BMI | Weight Status |
| --- | --- |
| Below 18.5 | Underweight |
| 18.5 - 24.9 | Normal |
| 25 - 29.9 | Overweight |
| 30 and Above | Obese |